Issue
I have a user in my organization, and I would like make that user an Administrator in Vyopta. How do I go about setting that user up.
Solution
First, we expect the person following these steps has Administrator access. If you don't have Administrator access, you will need to work with your Vyopta Administrator to apply the role change. If you are an Administrator, please follow the following steps below
Log into the Vyopta Admin Portal
Navigate over to the User list as shown in the screenshot below
In the Username search box, type in your users email address. If nothing comes back, please ask the user to create an account using our create account link at my.vyopta.com

, and verify with your user how she/he registered their account.

In this case, I searched for vtest, and found the following user. Now if I wanted to change the user's role, I would click on the pencil icon under the word Actions as shown in the screenshot below

Once you click on the pencil icon, the User Information page will show up, and then you can select the Administrator (or other necessary) role using the dropdown menu. In this case, this user has the Administrator role checked.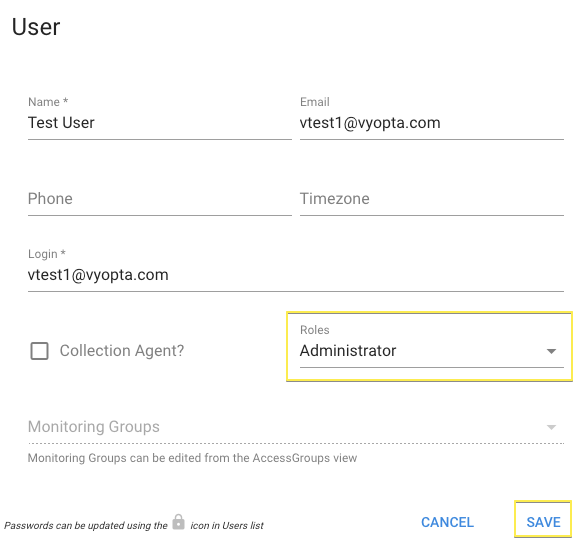 To save, just click on the save button in the user information screen to save the changes.