Question
How do I set an alert for when a Bridge or Call Control is currently down?
Answer
In CPM Monitoring, navigate to the Alerts tab, and click on the

button.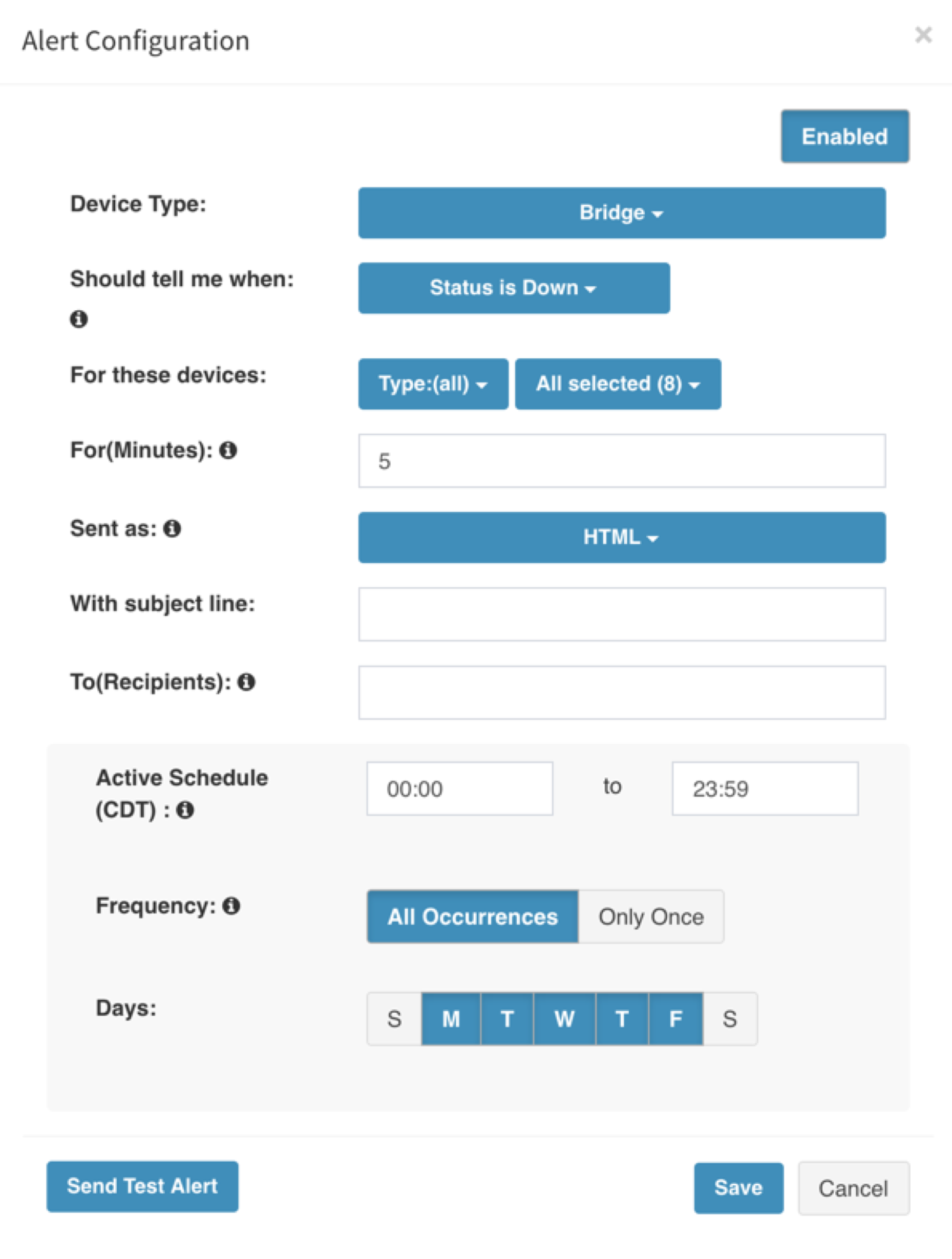 In the Alerts Configuration window, complete the following:
Device Type: Bridge or Call Control
Should tell me when: Status is Down
For all these devices: Select the endpoints which you want to monitor. You can select some or all
For (Minutes): Set this to the duration of continuous alert readings necessary to trigger the alert. For example, if set to 5 minutes, the device status will need to remain down for 5 consecutive minutes to trigger an alert. (See What does the For (Minutes) field on alerts mean?)
Sent as: Set the preferred format of your email – HTML or Plain Text. To integrate with help desk or ticketing systems, choose HTML – Custom. (See How do I use custom HTML in Real Time Alerts to integrate with my ticketing system?)
With Subject line: Enter the subject line relevant to you for this alert.
Recipients: A valid email address or addresses, separated by commas or semicolons. Addresses can include distribution lists.
Active schedule, Frequency & Days: These fields establish the period(s) of time when the alert will be active. Since alerts may have different thresholds or recipients during different time periods, it is often desirable to set up multiple alerts on the same component(s) to cover these different circumstances. (e.g., One alert for weekdays and another for weekends, each sent to different recipients.)
Note: Based on the criteria you have set on the alert, each time that criteria is satisfied, you will receive an alert during the days and hours you have set for the Active Schedule.