Issue
Validation of a CUCM fail with details as shown: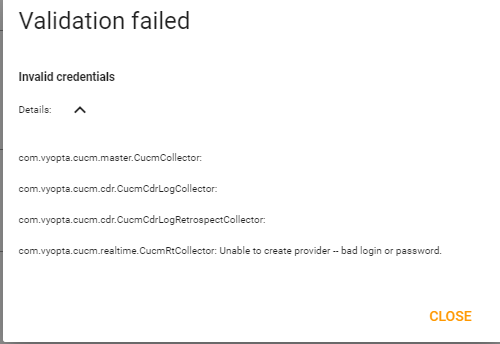 Then the Vyopta Data Collector is unable to connect to the CTI Manager service on the CUCM device.
Since the other services have been successfully contacted, the credentials supplied are correct.
This can be caused by either the CTI Manager service not running or by TLS certificates having been changed on the CUCM without restarting the CTI Manager service.
Solution
Restart the CTI Manager Service on the CUCM.
Further Investigation:
Cisco's JTAPI Test Tool (version 10.x) can be used to investigate the connection problem if restarting the service did not resolve the issue. The tool should be run from the same machine running the Vyopta Data Collector and will execute using purely Cisco code.
Should the CTI Manager service be running, there are no network issues preventing connection and the test tool return an error then Cisco should be consulted regarding the cause.
The JTAPI Test Tool and its documentation can be found here:
https://share.vyopta.com/client/support/cucm/JTAPI.zip