With our new Zoom Connector, you now have the ability to connect to your Zoom account using oAuth, with optional support for Zoom DSS. WIth our new connector, you will not have to create a JWT application for us to connect to your Zoom Account.
Zoom DSS is now the new offering from Zoom that will allow us to collect quality for all your Zoom meetings. Before enabling DSS, please check with your Zoom Account Manager to see if you have DSS enabled on your account
To add a Zoom Connector requires the following:
Access to your organization's Zoom API URL (api.zoom.us)
A Zoom account that we can register your Zoom connector to (using oAuth)
Please follow the instructions below to add your Zoom instance to Data Collection:
Navigate to https://my.vyopta.com/admin/ to access the Admin Portal and log in with your Vyopta credentials
Select the Infrastructure menu or Icon, then select New Infrastructure (near the bottom)
From the selection of infrastructure types, click Zoom:
On the Configuration page:
Enter the Zoom name and description as desired
Enter the default API URL and click 'Save'
Note: The default Zoom API URL is "api.zoom.us", however, this should reflect the URL of the Zoom infrastructure and may vary for on-premise deployment.
Next, expand the ZOOM Authorization panel where you can now press the "Click to Authorize" to connect the new connector to your Zoom Account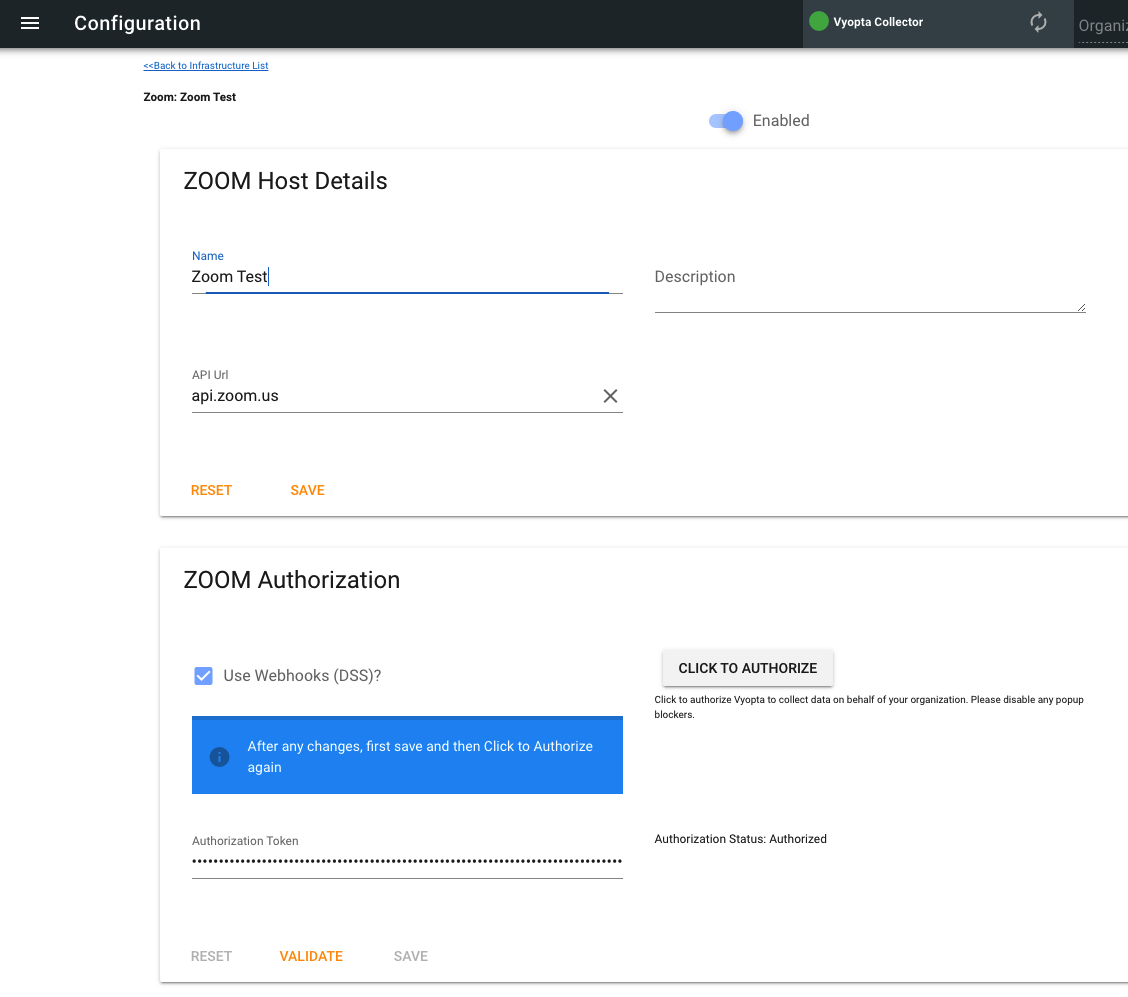 Once you click on the 'Click to Authorize' link, you will then be redirected to your Zoom oAuth Account page as shown below.
Once you sign in, you should be taken back to your Zoom connector page in the Vyopta Admin Portal. If the connection was successful, you should see a message "Authorization Status: Success" as shown in the screenshot below.

By Default the setting "Use Webhooks (DSS)?" will be enabled. If you are not using Zoom DSS, please uncheck this setting, and then click on the save button in the panel.
Note: None of the Additional Settings in the panels below need to be changed from their defaults.
Finally, you can enable data collection to Zoom by clicking the 'Disabled' button at the top of the page, changing it to 'Enabled'.
Zoom Rooms

Enabling Zoom Rooms for data collection may require adjustments in the Zoom Room name and display name used by your organization in the Zoom admin portal. To enable Zoom Room tracking and matching, please note that all Zoom Room names and display names must be identical. Additionally, all Room Names must be unique.